Ann Arbor
Ele's Place is the only nonprofit in Ann Arbor and the surrounding region, dedicated solely to helping children and teens work with and through grief. Unfortunately, the need for our services will never go away. Unresolved grief negatively affects our children and teens, contributing to alarming rates of depression, addiction and violence.
Ele's Place Ann Arbor was established in 2007 by offering one night of weekly programing. In 2019, after opening the doors to our new dedicated healing center - A Home for Healing Hearts - we have expanded our services to Monday, Tuesday, Wednesday and Thursday evenings, serving an average of 160 grieving children, teens and their families each week from dozens of communities. The need for our services is critical. In Washtenaw County alone, 4,500 children could potentially benefit from the services of Ele's Place.
Closure Due to COVID-19
While Ele's Place Ann Arbor is closed for face-to-face support groups and in-person meetings, our number one priority is to continue to support and serve our grieving children, teens and families VIRTUALLY. If you need assistance, please contact our clinical program staff at 734.929.6640. We look forward to the day that the COVID-19 pandemic subsides and the doors to our Home for Healing Hearts are open once again.
Tour of the Heart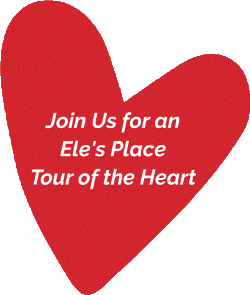 What is a tour of the heart? An inspirational opportunity to learn more about Ele's Place Ann Arbor. For now, we are able to schedule remote meetings during which you will enjoy a virtual tour of our NEW program facility, meet our staff, learn about our services and find out ways you can help support our mission.
Contact Nancy Biehn nbiehn@elesplace.org or 734.929.6640 ext. 2220 to learn more about our virtual tours of the heart.
Holiday Schedule
Holiday observance information will be made available here.
Weather Advisory
Weather advisories and closure information will be made available here.
---
---