All Ele's Place on-site locations are currently closed due to Executive Order.
Please see below regarding our response to the Coronavirus (COVID-19.) Although our doors are closed, we are virtually present and available for grieving families seeking support. Please reach out to the branch location closest to you. Contact information is on the right side of this page.
At this time our bereavement staff are offering:
Clinical consultation with a licensed, clinical program staff member. Currently, we are offering support as needed by phone and email.
Weekly email correspondence to all currently enrolled Ele's Place families with grief-related activities, resources, discussion questions, etc.
Resource and referral services (children's grief articles, book lists, individual/family therapy services, etc.)
New resources regularly posted to our Facebook pages. Please follow each of our branches on Facebook so you are aware of what is being shared! Furthermore, there are many helpful bereavement resources available on this website in the Resources tab.
March 16, 2020
Dear Ele's Place Community:
The safety, health, and well-being of our Ele's Place community members is our highest priority, and we believe it is critical to do our part in the global effort to slow the coronavirus (COVID-19) pandemic.
Ele's Place has implemented the following precautions as of today:
· All on-site support groups, in-person care consultations and in-takes are temporarily suspended.
· With Governor Whitmer's mandatory closing of restaurants and bars statewide, we are temporarily closing our branch offices located in Grand Rapids, Flint, Ann Arbor and Lansing. PLEASE NOTE: Our work to help grieving children and families is not stopping and we continue to offer support virtually during regular business hours.
· We encourage families to call us any time during business hours for resources and guidance, In addition to phone consultations, our program team is quickly mobilizing to implement virtual supports for families, including activities, family discussions and other support mechanisms viable through phone, computer, on-line and video conferencing.
We know grieving children and teens may be particularly vulnerable to anxiety and worry during times of uncertainty. Here are some tips from the National Association of School Psychologists on talking to children about coronavirus/COVID-19.
· During this time our Ele's Place staff is working remotely as much as possible and will stagger necessary work at our sites to maintain essential functions.
· The CDC has recommended suspending events of 50 or more people for 8 weeks, impacting our Ele's Place events in April and May. Hence, we are postponing all Ele's Place public events through May, including Healing Heart Society Breakfasts, our Derby Day Soiree in Ann Arbor and Business Leaders in Flint. While in some ways this is a tough decision for our organization being these premier events are our core fundraisers for our mission, we cannot risk putting anyone in compromised situations during this pandemic. Our hope is the events will be rescheduled at later dates this year, Please look for further communication from our Branches as they direct next steps and communication with our local venues, sponsors and table captains.
· With the above CDC guidance relating to events, we are also canceling in-person community board meetings, committee meetings or small group gatherings. Your local Branch Director and Program Director will provide direction on how groups at each branch can engage virtually. While we are not able to meet face-to-face, we believe our important work can continue with creative and focused virtual engagement.
We are so thankful for your patience, for your understanding and support as Ele's Place navigates each day during this unprecedented time.
Thank you for your ongoing support of the grieving children and families here at Ele's Place. If you have any questions or concerns – or want to connect in any way – please reach out via phone or email to your local Ele's Place Branch or directly to our Headquarters.
Capital Region/Headquarters-
517-482-1315
Greater Flint and Genesee County
810-242-3040
Ann Arbor 734-929-6640
West Michigan 616-301-1605
With grateful hearts,
Dan Layman
President and CEO
Anita Bohn
Governing Board Chair
What is Ele's Place?
Ele's Place is a healing center for grieving children, teens, young adults, and their families. Four branch locations support families throughout Ann Arbor, Grand Rapids, Flint,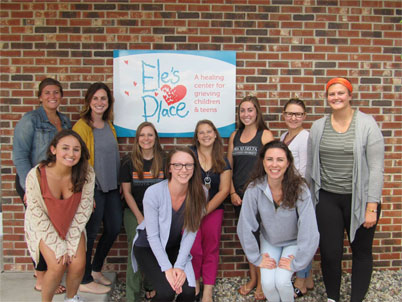 Lansing, and beyond.
Each week, peer-to-peer bereavement support groups help hundreds learn to cope and begin to heal after the death of a parent, sibling, or someone close to them. Before coming to Ele's Place, grieving children feel alone and keep their feelings inside, not wanting to burden their parents or other family members. Often, friends don't seem to understand if they haven't had a similar experience. At Ele's Place, hundreds of grieving children and teens find a warm and welcoming place to meet new friends who really understand how they feel, while they begin to heal after the death of someone close to them.
For more information, browse the tabs at the top or contact the office closest to you.
Locations
p:810.232.3040
f: 517.482.6608
1277 W. Court St
Flint, MI 48503
p: 517.482.1315
f: 517.482.6608
1145 W. Oakland Ave
Lansing, MI 48915



Ele's Place is proud to have the Platinum Seal of Transparency from Guidestar.org!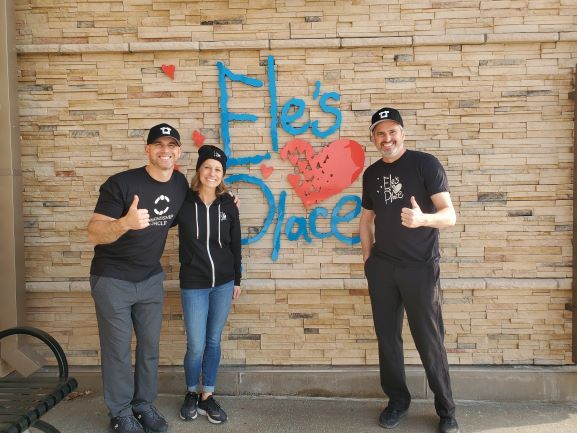 Ele's Place is excited to share our partnership with CLOZTALK! This partnership allows for 20% of all sales of Ele's Place apparel to be donated back to our organization to support grieving children and teens in Michigan! Click here to browse the Ele's Place catalog and place your CLOZTALK order today!