Events
Learn more about our upcoming events here! We hope that you will join us at one of the following events.
---
Ann Arbor Events
Healing Hearts Society Virtual Fundraising Breakfast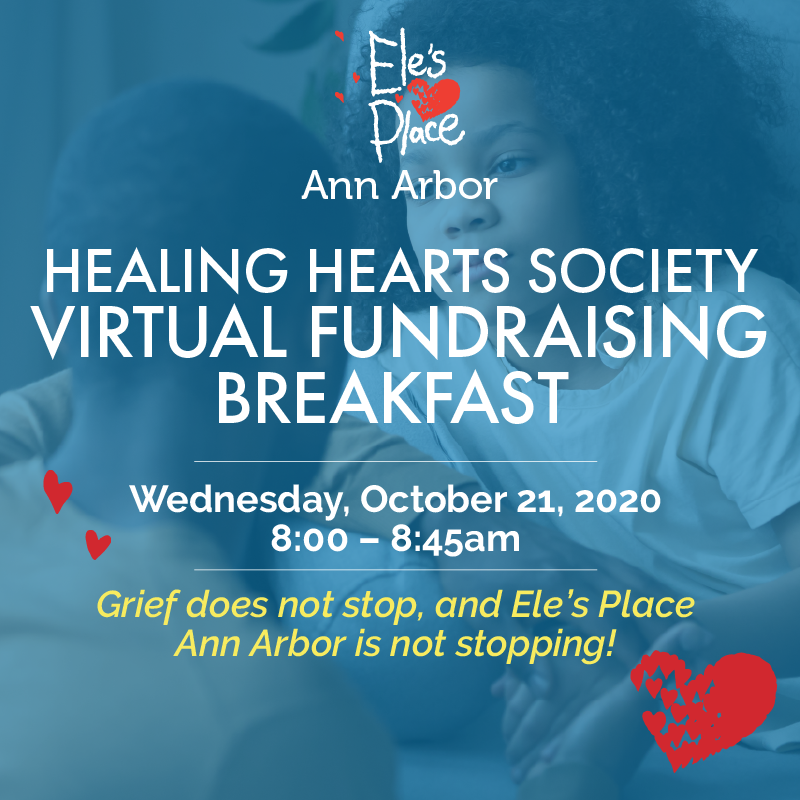 Thank you to everyone who was able to join us on Wednesday, October, 21, 2020 from 8:00 - 8:45am (ET) via Zoom! We are grateful that you choose to stand by us as we stand by the grieving children, teens and their families in our community. Your support helps ensure our compassionate grief support programs always remain FREE OF CHARGE.
If you weren't able to join us, PLEASE watch the REPLAY of our program: https://youtu.be/sDp4mrJS9SY?t=902
Please consider making an online pledge or donation via our secure donation webpage: https://elesplace.org/a2breakfast
If you prefer to mail your donation, please download and print the Pledge Form and mail the form and your check payable to "Ele's Place" to: Ele's Place Ann Arbor, 5665 Hines Drive, Ann Arbor, MI 48108.
---
Capital Region Events
November is Children's Grief Awareness Month
Each day we will bring you stories, artwork, messages, resources, and mission moments to share the importance of creating awareness of and support for grieving children and teens in our community.
11/19 Children's Grief Awareness Day—
Children's Grief Awareness Day. Ele's Place - Capital Region* has partnered with WKAR - Public Media from Michigan State University for a special online screening of the wonderful documentary 'Speaking Grief', followed by a panel discussion including the filmmaker, Lindsey Whissel Fenton and participants from Ele's Place. Please join us for this free event at 7pm. Registration is required: https://www.wkar.org/post/speaking-grief-screener-and-conversation
---
Greater Flint and Genesee County Events
---
West Michigan Events
Tuesday, October 20th at 6:30pm- Courage, Comfort & Cocktails - CLICK HERE TO REGISTER AND WACTH EVENT!