Ele's Place Ann Arbor Newsletter


April 2019
---


April Update with Monica
Last year on May 5, 2018 we dared to think out of the box, dream big and try something that had never been done before; The Derby Day Soiree! It was an rousing success with over 200 people in attendance and over $200,000 raised.
One of the most emotional moments of the evening was our paddle ask. During this time we talked about Ele's Group. We explained how Ele's Group allows us to take Ele's Place to our community schools. By providing this service within a school setting we remove all barriers such as transportation and socio-economic reasons. Our goal was to raise $35,000 and we blew the top on that and instead raised $65,000.
These generous donations allowed us to grow our school program by 53%. The schools we now have a partnership with because of the generosity of this evening are:
Beach MS (Chelsea)

Chelsea HS (Chelsea)

Clague MS (Ann Arbor)

Lincoln MS (Ypsilanti Township)

Milan Middle School (Milan)

Navigator Upper Elementary (Pinckney)

Owen Intermediate (Belleville)

Pinckney High School (Pinckney)

Saline Heritage (Saline)

Saline Middle School (Saline)

Scarlett MS (Ann Arbor)

South Lyon High School (South Lyon)

Stockbridge Heritage (Stockbridge)

Stockbridge HS (Stockbridge)

Stockbridge MS (Stockbridge)

Whitmore Lake Elementary (Whitmore Lake)

Ypsilanti Community HS (Ypsilanti)

Ypsilanti Community MS (Ypsilanti)

Program Growth at Ele's Place Ann Arbor
Peggy Galimberti, LMSW, ACSW- Program Director
Growth and change can be wonderful, but also can present challenges.
The excitement and media attention around our capital campaign have led to a very high demand for our services. Compared to the first quarter one year ago (January- March 2018 vs Jan- March 2019), our numbers are up significantly:
Program calls:
167 (2018) vs. 216 (2019) - Up by 29%
Clinical consultations:
81 (2018) vs. 104 (2019) - Up by 28%
Enrollment forms sent:
35 (2018) vs. 59 (2019) - Up by 68%!
Some of our groups do have space currently, and some are at capacity. However, because we are nearing the end of our weekly groups for the school year, we are in the unfortunate position of having to ask some families to wait to start in our groups. Please know that we work very hard to start families in groups as soon as possible.
When our weekly groups end, our summer program shifts from our age divided groups to family based support. This summer, we are offering a number of Family Nights, and all enrolled families are invited to participate.
Families in need of support are encouraged to give us a call when they feel ready- that is the first step in our enrollment process. Even when there is a wait, we can start to provide support from the time of the first phone call. Our Program team members will take the time needed to provide emotional support, answer questions, and discuss next steps.
One of these steps is our Intake/ Orientation meeting- a supportive interaction that often prompts families to begin to have healing conversations with one another. When families need to wait for groups, we offer additional resources, referrals, or individual family meetings.
Thanks to each one of you for all you do to support our work and allow us to support the families at Ele's Place. You are all wonderful!!!
A special thanks to our amazing Program Team who continue to manage this increased work load with grace and compassion. (THANK YOU WONDERFUL SOCIAL WORKERS!)
Telling families that they may need to wait to start in the program is hard and painful and is exactly why we are working hard every day to make our new home a reality!
---
April Update from Bree


•

Program calls - up 29%

•

Clinical Consultations - up 28%

•

Number of New Family Enrollment Packets sent out - up 68%.

•

The cost for families to attend Ele's Place – remains $0!!

Yes, that is right. The cost for children, teens and their families to attend Ele's Place and receive compassionate grief support is $0, FREE!!
Ele's Place family based programming and Ele's Group exist because of the generosity of our amazing donors and volunteers. Help us continue to heal the hearts and change the lives of grieving children and teens in our community.
Wanna help? It's as easy as 1, 2, 3…
1. Become a member of our Healing Hearts Society. Sustainable gifts over 5 years allow us to plan and be the "rock" for members of our community after the loss of a significant person in their life. At $20/week, you CAN make a difference. Interested in learning more? I would love to meet you just drop me a note at barvai@elesplace.org.
2. Already a Healing Hearts Member? Share your passion for Ele's Place and Tell a friend, invite them to a "Tour of the Heart" at the UUAA. On May 8th, from 4pm – 5pm we will host our final tour in our existing programming space. Join us for an inspirational hour and learn more about Ele's Place. RSVP today to sbodner@elesplace.org.
3. Mark your calendars for Tuesday, October 15th and join us for our annual Healing Hearts Society Breakfast. Interested in becoming a table captain? Contact Bree at barvai@elesplace.org.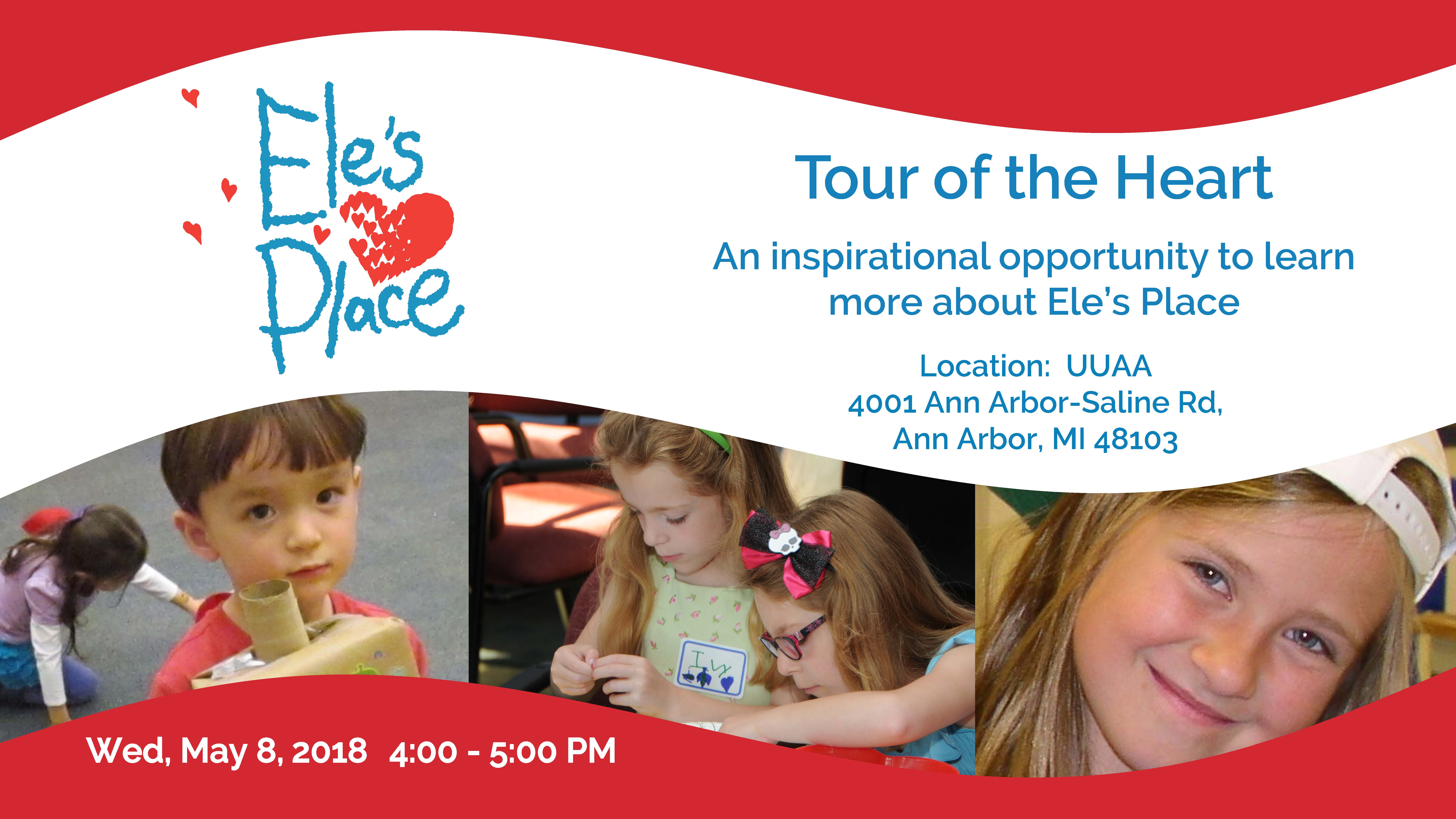 Join us for the next Tours of the Heart on
Unable to attend a tour, we can bring the "tour" to you. Contact Bree Arvai, barvai@elesplace.org to discuss opportunities for a lunch n' learn at your place of work or hosting a tour in your home.
---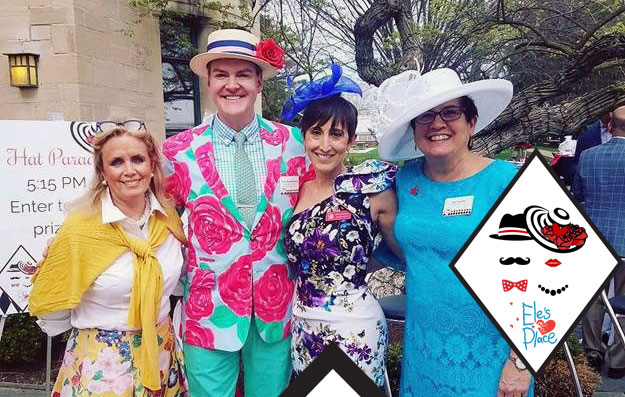 Volunteer at the Derby Day Soiree!
Join the Derby Day Soiree event committee and volunteer for one of the day of volunteer opportunities listed below in order to ensure a successful event on Saturday, May 4, 2019.
All volunteer opportunities are 3 hours in length and require a one-hour training the week of April 22, 2019. Volunteers must be 16 years of age or older and have a smart phone or iPad/Tablet they can use during their volunteer shift.
Interested? Contact Stacey at sbodner@elesplace.org to learn more and sign up!